To tell the truth, I was a bit doubtful about going to Croatia in the waning half of June, mainly because I was afraid it would be blisteringly hot. Granted, not as hot as it is in most parts of India now, but hot enough to cause a lot of discomfort to me and - given my temperament which tends to match its environment - to anyone around me as well. As it turned out, my fears were mostly unfounded, because apart from the last 2-3 days in Dubrovnik, the weather behaved itself quite delightfully.

We reached Zagreb on Friday afternoon. It was quite warm, actually, and Pete felt the heat immediately. But, fresh from rainy and cold Shrewsbury, I actually enjoyed the warmth of the sunshine, helped along by a lovely breeze. We were met at the airport by our friend Zarko, looking casual and cool (as always, I might add), ready to drive us all the way back to Osijek. The drive from Zagreb to Osijek was made more interesting because I was able to see the fields and trees and everything along the way (last time we'd done the journey at night), while at the same time trying to avoid the scorching sunshine, magnified by the window glass, that nearly set my jeans on fire – well, that's how it felt!

We stayed at the
Hotel Silver
again and it was a pleasure to recognise, and be recognised by, the staff at this small but comfortable hotel. I'll say this about the smaller mid-range hotels – unless you're really unlucky, what you lack in the way of decadent luxury is more than made up by the personal attention from the staff who all quickly get to know you (and vice versa). It also helps if they're the friendly kind, of course!

This time around, we didn't do much in and around Osijek, apart from eat and drink at the various wonderful restaurants to which Zarko and Ozana took us. No, I tell a lie, we made a few emergency trips to various hardware stores and general DIY type places for various reasons, one of them being my camera.

I don't know what it is about holidays and my camera, but I never seem to get it all together – one or the other component always gets left behind… the charger, the battery, sometimes the camera. This time it was the memory card.

I'd remembered to bring the charger for the camera's battery, even going to the extent of having the battery fully charged and in the camera. I felt very pleased about that... until I tried to take a photo of a walnut tree at the airport and discovered that the camera didn't have a memory card in it. So of course Zarko had to drive us all around and about when we got to Osijek to get a memory card first thing, before we did anything else (because I insisted).

And then, after all that malarkey buying a new memory card, to discover after all that the bloody battery had somehow lost its charge, when I tried to take a photo of the kids... well, suffice it to say that I was very upset and the camera came perilously close to death by drowning in the Drava.

So did the saga of the camera end there? Not on your nelly!

The next problem turned up when we got back to the hotel and I looked in our luggage for the adaptor plug that would enable me to make use of the charger with the local plug point. Naturally, it wasn't there (the adaptor plug, I mean).

Since UK plugs and Croatian plug points are incompatible (think of square pegs and round holes), we had to go back on the hunt for a plug which would marry the two. Easier said than done, because there weren't any such plugs available for love or money. In the end we bought Croatian plugs, along with an emergency tool kit, and Pete attached the Croatian plugs to my British charger (after detaching the British plug first). Why hotels everywhere can't use standardised plug points that will take any shapes or sizes of plug pins, I don't know. It would save the disorganised type of person (me) a lot of holiday hassle.

Anyway... since the weather forecasts were gloomy, we took each day as it came, without making plans that might have been spoilt by the rain. As it turned out, it didn't rain (except on a Monday that was also a public holiday) and the weather stayed pleasant.

We had "feesh soup" again at a really characterful restaurant, called "Kod Ruže" (translation: At the Rose – thanks, Zarko). It was kitted out with all sorts of old traditional utensils/decorations and knick-knacks that are found in any traditional Croatian house, and the decorations gave the place a really warm, homely air. I found the fish soup glorious yet again, particularly as it was really spicy (pre-ordered specially by Zarko, bless the man) – Pete sweated an entire river (no, not the Drava) but it didn't stop him mopping the soup off his plate with the fresh crusty bread that was provided along with the noodles.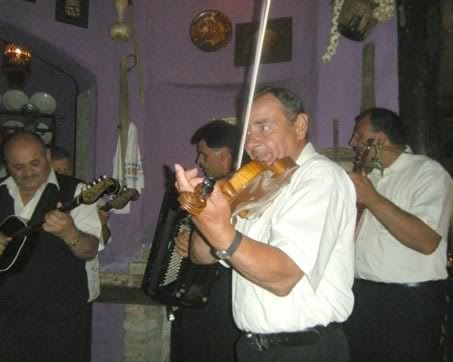 And pretty much for the entire time that we were in the restaurant, we were serenaded by a troupe of gypsy musicians. The violinist in particular was extremely talented and we tipped him rather generously. The nice thing about these guys was that they didn't go away the moment they were given money (as was our experience with street musicians in Paris and Rome)... instead, they played even more vigorously by our table, just for us! Or possibly just for Pete, who was the tipper.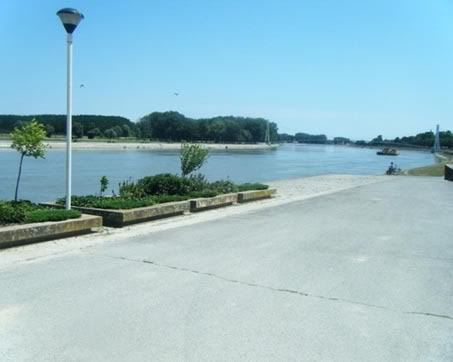 Another meal, preceded by a long leisurely stroll along the Drava river, was at the Zoo restaurant – which was a restaurant at the zoo (duh). Getting to the restaurant was fun. One way is walk across the footbridge to the other side of the Drava (on which side the zoo is situated) and walk the kilometer or to the restaurant.
We, however, walked down the promenade, all the way to a little jetty directly across from the restaurant, because crossing a river is much more fun in a ferry.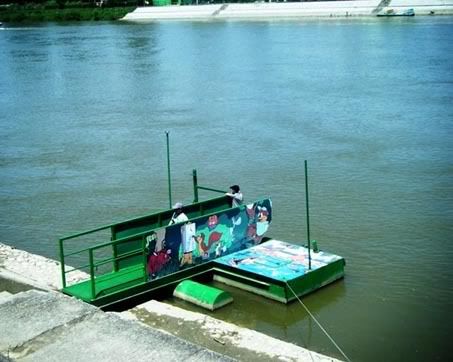 This ferry, tethered to a cable that stretched above the river from one bank to the other, was not motor powered but used the Drava's current to drift across. The cable, of course, held back the ferry from drifting entirely away - which circumstance wouldn't have served the purpose of visiting the zoo or the restaurant at all.

We didn't check out the zoo itself but the restaurant décor was appropriately all leopard and zebra print, with lots of greenery. It was a very hot day, but the heat of the sun was mitigated by a fresh breeze – the only time we felt the sting of the sun's rays was when the breeze dropped.

As we sat out in the patio garden while our table was being readed, there were a few loud explosions which puzzled me and Pete a bit. Ozana said that it was probably due to work on the mines, news to me as I hadn't read about any mines being in operation around Osijek.

I asked what sort of mining was going on, and that was when Zarko made it clear that these weren't the kind of mines you dig into, but the kind that blow up people – basically, the explosions were most likely from mine-clearing operations. Apparently 40% of the land in Croatia is still a minefield – literally. A sobering, quite frightening thought, to be sure, and a situation that makes farming a lot more dangerous in some areas than it would otherwise be. You certainly wouldn't want to go wandering off the beaten path, as it were.

Landmines, a menace in war-time, obviously continue to be a menace in peacetime as well. Companies that manufacture landmines and sell them to war-torn countries should all be blown up – I for one wouldn't care if the fat cats making money off the suffering and danger caused to innocent people were blown up along with their product! Actually, left to me, I would send the weapons manufacturers out into minefields one at a time. That way they would at least be useful.

Anyway, getting back on track... the meal at the Zoo Restaurant was a fine one, and I was actually lucky that they had a proper vegetarian entrée – a soya-vegetable patty, with fresh green peas, served with chipped potatoes and one of the gorgeous mixed salads that were such a pleasure and a part of nearly every meal. I had a cabbage slaw that was ever so slightly sour – I don't know if that was sauerkraut, but if it was, it was scrumptious!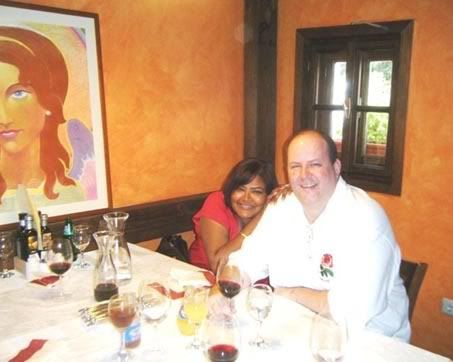 No trip to Osijek is complete without visiting a winery, as far as Pete is concerned. With that in mind, Zarko and Ozana arranged for a trip to a
vineyard in the Baranja area
which also boasted an exclusive, very impressive restaurant in the wine cellar.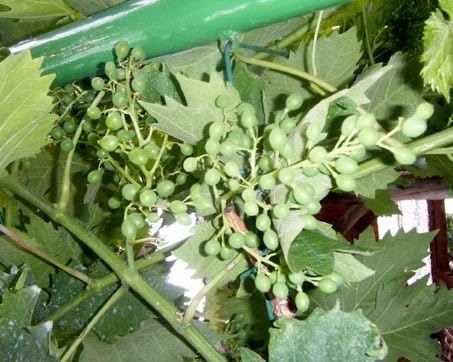 The surroundings were lovely, and I saw my first ever grape vines in the vineyard there – an exciting moment. The grapes, of course, were too sour for words - I knew they would be, but I tasted one all the same. Call this the only occasion where the sour grapes didn't cause a "sour grapes" attitude, heheh!
What made our holiday an even greater pleasure this time was the fact that the Croatian government had enforced a smoking ban in public buildings – you can't begin to imagine the difference this made to us as non-smokers. Obviously this meant that the smokers had to go outside if they wanted a fag – and pool ol' Zarko and Ozana had to keep popping in and out of the restaurant while we were there! There probably aren't many Croatians happy about this rule – for certain, Zarko isn't.



Our flight to Dubrovnik was from Zagreb on Wednesday, so on Sunday evening we went to the railway station in Osijek to book tickets for the early morning "fast train" on Tuesday – which takes about 3 hours from Osijek to Zagreb, with no stops on the way.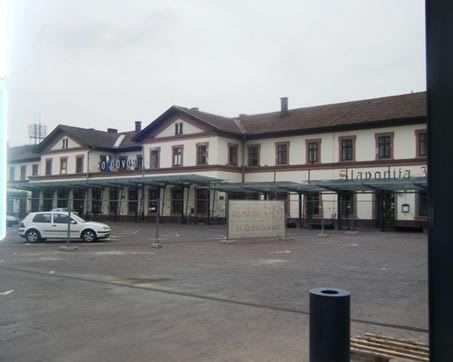 I have to say the station looked a bit bleak, especially as the sky was overcast and dull – or perhaps it was very quiet as it was a Sunday evening. There were also building works going on nearby – new tram lines being laid, plus a rather fancy pedestrian overbridge being built. Building sites are never pleasant on the eye, and this partly made the station area look bleaker than it was.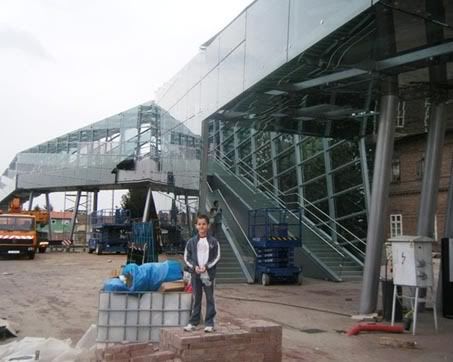 The problem, as Zarko explained it, is that neither project has been completed, and may not for a good few years yet. I don't know if it's disheartening or reassuring, the realization that governments everywhere bungle up on new constructions by underestimating the funding required, or not coming to a consensus on some vital issue or other, and so on. Osijek is a pleasant city, and deserves a better deal.

We spent Monday – which turned out to be very rainy – scuttling from coffee shop to coffee shop between rain showers, until we got to Osijek town centre… only to find that most of the shops were closed because it was a public holiday. Luckily there were icecream shops and cafes open, so we didn't do too badly – Pete worked on his software while I read my book. And when I'd finished my book, it was time to return to Zarko & Ozana's for a slap-up, scrumptious dinner on our last night in Osijek.

The next day we were at the station bright and early – well, early, anyway. Our train was at 5.45 a.m, but we got there a good hour early because I didn't want to risk missing it. There was hardly anybody at the station when we got there and poor Pete couldn't even get a coffee because there wasn't a vending machine. He comforted himself by hauling out his laptop – Pete's laptop is to him what a pacifier would be to a baby.

The journey to Zagreb was nothing out of the ordinary – no spectacular scenery or anything… but it still felt nice to be on a train rather than on an airplane. I dozed off and on so the journey went quicker than it would otherwise have, I suppose.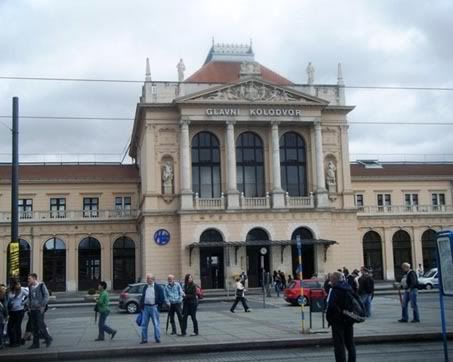 We reached Zagreb railway station (Gravni Kolodvor – and I haven't managed to figure out yet whether it means "railway station" or whether it IS the name of the station itself) pretty much on time. The uplifting aroma of fresh bread made its way to our noses as we entered the main hall, and I bought two chocolate croissants from the bakery outlet there because suddenly we felt really hungry. Alas, the aroma was better than the taste. The thing about croissants, much as I like them, is that they tend to flake all over my clothes no matter how much care I take while eating them… but these Zagrebian croissants didn't so much as shed a single crumb. Good, in a way, but not the mark of a true croissant. No?
Outside we found a taxi stand and got into the taxi of the first man who approached us. We should really have checked at the Information counter about the best way to get to our hotel –

the Arcotel Allegra

– and the approximate taxi fare to get there. But we didn't – and paid for that omission literally, because the bloody taxi driver fleeced us like a pair of sheep. We discovered later that not only had he taken us the long way around to our hotel, he had also not reset his meter to zero... so basically instead of paying maybe 30 kuna, tops, we ended up giving him close on 100 kuna. I guess it served us right for being lazy.

B-a-a-a-ah!

The hotel was in a pretty good location, with the city's most famous area – Jelacic Square (Trg Bana Jelačića) – just about 30 minutes stroll away. Our room wasn't bad either, and I have no complaints about the level of service we received... but there was no warmth or any real feeling of welcome. I guess the Allegra fell somewhere between mid-to-largish in terms of size… and hotels that size tend to be somewhat soulless. Besides, according to the guide book, Zagreb's hotels are geared to the business traveler on an expense account rather than tourists on a limited budget. (Make of that what you will!)

Anyway, we dumped our bags in the room and went downstairs for breakfast, which was quite a substantial spread, almost decadent... they even had champagne at the bar (not that we had any). Then it was back to the room so that Pete could catch up on lost sleep.

When we finally set out to check out our surroundings, I didn't really have an idea of which direction the city centre was in, so we chose a street at random and began walking down it. The buildings didn't seem particularly interesting, and I was beginning to wonder if we were going anywhere useful, when we came upon green and lovely Tomislav Square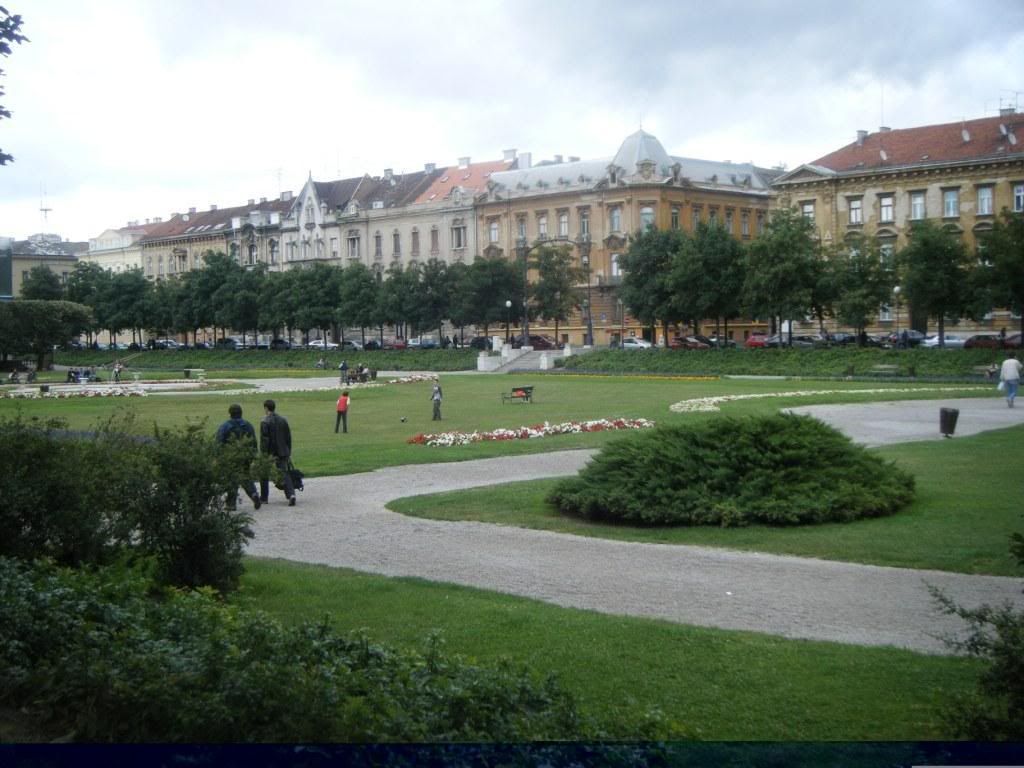 –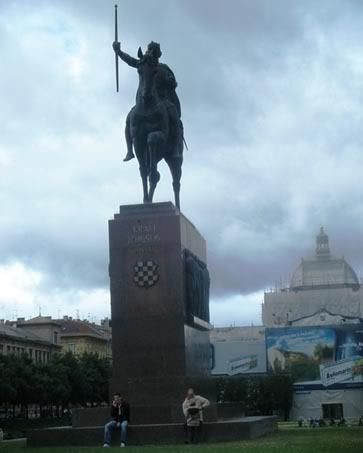 and across the road from King Tomislav's statue was the railway station (which was when we realized that the taxi driver had duped us, incidentally). The distance would have been maybe a mile or so from our hotel to the station.

Zagreb's railway station is a rather beautiful building and the looming rainclouds did not detract from it in any way. The fact that the square is surrounded by lovely, expensive looking buildings also helped. I took a few photos and then we set off around the square, following the arrows which pointed towards St Mark's Church, the cathedral and Jelacic Square, which is the heart of Zagreb city centre.

There were rainclouds but it didn't rain, so the afternoon was pleasantly cool for walking – a big relief to me, because I'm not at my best (behaviour-wise and otherwise) in hot weather. The whole place looked very European – specifically Parisian, especially the buildings – and there didn't seem to be many reminders of the damage caused by the war.

Eventually we came to Jelacic Square – a large open square, which has been around since the 17th Century, with the famous statue of Josip Jelacic on a prancing warhorse with sword held aloft (the statue made in 1866 by an Austrian, Anton Fernkorn), and many tram lines. The buildings around it were constructed in the last 200 years in a variety of styles. Mostly all pretty, which is about as much as I know of architecture, unfortunately.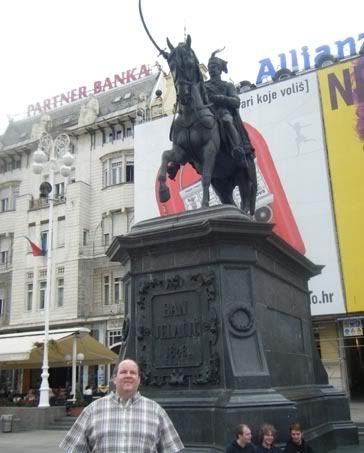 The square was reasonably busy, I suppose, with both tourists and locals hanging around. I took the obligatory photographs of Josip Jelacic's statue (which from certain angles reminded me of Rana Pratap) and then we wandered up a side street that I hoped would lead me to Dolac Market. Not that the market would be open at that time, but I wanted to pinpoint its location because I really, really wanted to see it the next day, during opening hours. (As it turned out, we didn't have the time for this – something I regret rather a lot. But no doubt I'll make it there the next time.)

The street was lined with little posh boutique-y shops, mainly selling bags and shoes. There didn't seem much point to looking at anything in the shops because all the labeled goods were from the usual suspects – overpriced and overhyped. Perhaps there are places which sell things unique to Zagreb's culture, but not around Jelacic Square, I don't think.

North of Trg Bana Jelačića is the Upper Town, Gornji Grad. The historic hill towns of Gradec and Kaptol can be reached via the steps to Dolac market square.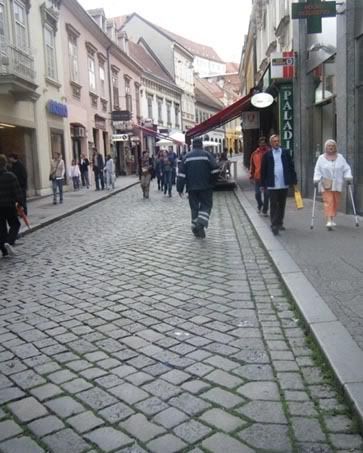 So we trudged up the pretty cobbled street, following the signs for Dolac Market. There was a statue just outside the market, in the centre of a little square surrounded by restaurants (with plenty of outdoor seating), which drew my attention.

At first sight it looked like a jolly musician playing his guitar… but then Pete pointed out the hangman's rope around his neck – and when I went round it to look at the guitarist's companions, it was obvious that the statue was not exactly meant to represent festivity and cheer, because the two other men appeared to be dying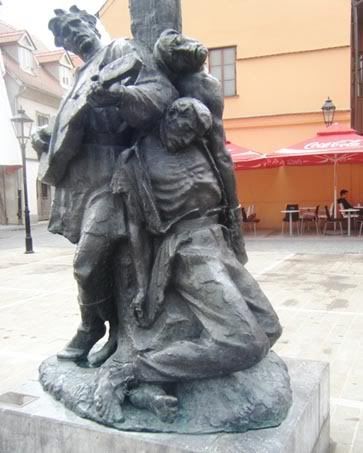 gruesomely too, one with his ribs all showing as if he was starved. I don't know the significance of this statue and couldn't find any reference to it... but I have to say it would not be top on my list of things to look at while having lunch!

Since Dolac Market – did I mention the main market is underground? - was not open, we went on to Kaptol, which is the churchy area of Zagreb.
Or in more formal terms, Kaptol is traditionally an ecclesiastical centre, dominated by the twin-spired Gothic Cathedral of the Assumption of Virgin Mary and St. Stephen.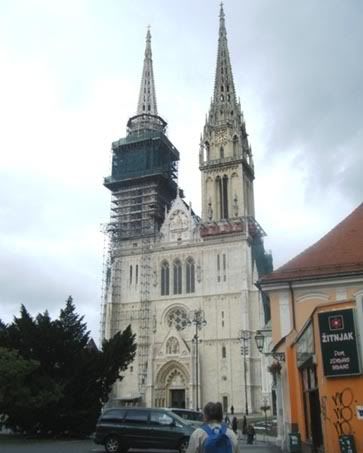 It was being renovated, with lots of scaffolding somewhat marring its façade – but apparently this has been ongoing for the last few years. Right in front of the cathedral was a column with a golden statue of the Holy Mary (whom I mistook for Jesus at first – pardon my ignorance) at the top, and with four golden angels (I think) at the foot of the column.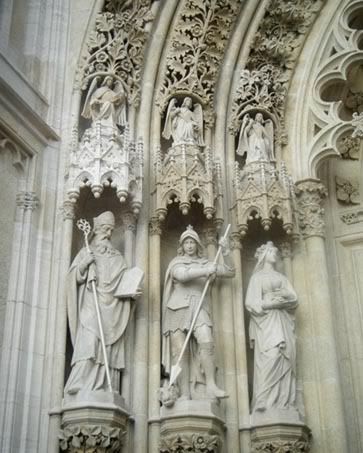 The entrance door to the cathedral was beautiful, with statues of various saints and some really intricate designs and carvings that looked almost like filigree work, they were so delicate.

Photography was forbidden within the cathedral, so I had to content myself with taking a photo of the stained glass interior from the entrance, stealthily using the "museum" mode on my camera so that there wouldn't be a flash to disturb the faithful at their prayers.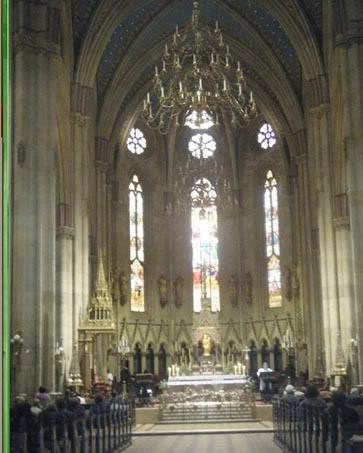 We didn't go inside the cathedral for the same reason, which was a bit of a shame because it was really rather beautiful in the way of such places.

After that it was lunch time... a very very late lunch, very nearly supper. Although it would have been very nice to sit outside, the smokers had the upper hand here, so we elected to sit inside – which meant that we had the pizzeria pretty much to ourselves.

There wasn't much time to see anything else, because it had gone quite dark, so we elected to walk back to the hotel. I felt bad about not having had enough time to see St Mark's Church and quite a few other places in and around Zagreb, but I didn't have much choice in the matter. There just literally was not enough time, as we were leaving for Dubrovnik the next day.
To be contd...